Posted:
April 30th, 2010 |
Author:
Ryan
|
Filed under:
Uncategorized
|
Tags:
Amy Pond
,
crush
,
Dr Who
,
ginger
,
third wife
|
No Comments »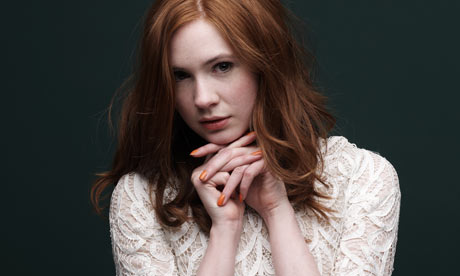 I'll start with a confession:  I've been slacking on my Geek/Anglophile requirements and am just now getting into Dr. Who.  Yes, yes, years went by and instead of watching Dr. Who, I was watching Heroes instead.  Well, we all know which one of those really sucked.
Back to the point, though, as of last week's State-side launch of Season 5, I have a very good reason to watch every episode from here out:Â  Amy Pond, as played by fantastic ginger Karen Gillian.
Sassy
Pretty
Scottish Accent
and in a Sci-Fi series
Wholly crap, someone unlocked the secret "make Ryan have a crush on this girl" formula without me knowing it.
Video contains spoilers for Episode 5.01

Plus she's well funny:

All in all, anyone else noticing the trend of smokin' hot gingers?
Alison Dennisof, Christina Hendricks, sometimes Laura Linney or Julianne Moore…I know I'm forgetting some here.
Watch out brunettes, someone's making a play for top spot.
---