Posted:
July 24th, 2010 |
Author:
Ryan
|
Filed under:
Uncategorized
|
Tags:
immigration
,
phoenix
,
sb1070
,
shepard fairey
,
street art
|
No Comments »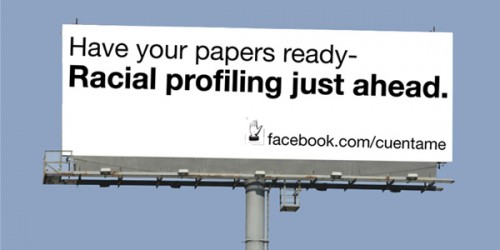 A lot of times billboards are sloppy, ill-conceived printed versions of brands shouting at us, conditioning us to believe that society says we need to spend our money on their product.  The worst are when I see a billboard so low that it blocks part of a building from view, thereby adding to the crowded sense of the city and removing most options for great street art.
However, today I stumbled across a blog post by none other than Shepard Fairey, one of my three favorite street artists ever, discussing a social movement very dear to us citizens of Phoenix: SB-1070 (or as I like to call it The "hey, want another reason to hate AZ" Bill)
(For previous blog about Street Art and SB-1070, see here)

Whatever your stance on 1070, anyone who disagrees with the basic Americana of political discourse is a liar or a dullard.  It speaks to our roots as a nation that we want to be represented, we want our voices to be heard, we want government "of the people".
It is impossible to be more American than to form an opinion and express it loudly, clearly, and concisely.
So you should see why I really liked the idea presented below.
We can't stop now. We must keep fighting this unjust law that will effectively institutionalize discrimination against the Latino community.  Proceeds from the "We Are Human" print go to immigration reform organizations such as the one below!  Please take a second and support.

Brave New Foundation's Cuéntame asks:
If you can help us raise $10,000 by Monday, July 26, Cuéntame will purchase a billboard on a populated street in Phoenix showing the law for what it really is. The powerful line for the billboard has already been chosen on Facebook by the members of Cuéntame. Now all we need is your support.  Please help us in our next step to send a giant message to the Arizona government.

Brave New Foundation's Cuéntame, has made major headlines this week for its video interview with Arizona Police Officer Paul Dobsonspeaking out about draconian Arizona anti-immigration bill, SB1070. Officer Dobson is now under investigation for exercising his first amendment right to speak freely about the real effects of the law:

"I know people will not call the police in case of a real emergency. This law is purely racist and solely focused on Latinos. In my opinion, SB 1070 violates equal protection under the law." Paul Dobson, Patrol Officer, Arizona

We are making a difference and our voices are being heard by hundreds of thousands of people across the country. Cuéntame's work with Officer Dobson has been featured in USA Today, Arizona Republic, New York Daily News, FoxNews and more!
---